---
Home Children History Descendants Resources Redden Cemetery Contact Us
---
Sarah Jane Kidwell
Their Children:
| | |
| --- | --- |
| 1. Lucretia Redden | 2. Martha Redden |
| 3.Amanda Redden | |
What was known about Joseph Redden, at least in the last few generations, was that he had moved to Ohio from WV. Then a record was found among those recorded by Aubrey O. Smith, "Smith Rife Collection", stating that Joseph Redden died in prison during the Civil War. Then in the spring of 1999 The Descendants came in contact with the a descendant of Joseph. Sense then four other descendants of Joseph have joined the family organization. They graciously provided the information below.
Joseph was one of the ten children of William Redden Sr. and Fanny Kaylor. He was born in 1828 in Virginia and was listed by the U.S. Military as dying at age 40 in 1864 at Andersonville Georgia as a prisoner of the civil war.
He married Sarah Jane Kidwell in 1845 in Fayette Co, VA. They had three daughters: Lucretia, Martha, and Amanda.
Sarah Jane Kidwell was the daughter of Joseph Kidwell and Delilah Bradshaw. It is possible that Sarah Jane was actually the result of her mother's confinement with Indians (Potowatamie) in Illinois - one of abduction. This rumor has not been confirmed. It is fairly certain that Delilah (Bracher) Bradshaw was married to Joseph Kidwell before the alleged abduction took place since it is recorded that Delilah and Joseph Kidwell had a son William born in 1823.(?) Sarah Jane's birth is determined to be 1827 and in Illinois. There is no record of the family living in Illinois.
Little is known of his life in Fayette County WV as he was growing up. At some point he moved to Ohio. Whether this was before the war broke out or not is subject to question. His sympathies were with the North and he enlisted in the 1st Virginia Infantry at Wheeling, WV in 1861. He is later reported to be with the 9th WV infantry. The 9th WV infantry was also known as "Blazer's Rangers" and was active in the area where Joseph Redden was captured at Boyer's Ferry, WV. There is often mistaken information about the name of this place: Boice, Boyce and other names come up. The armies were active only at Boyer's Ferry on the appropriate capture date: February 1863. According to some reports he was initially taken to Libby Prison but was transferred to Andersonville in Georgia.
U.S. Union soldiers Compiled service records 1861-1865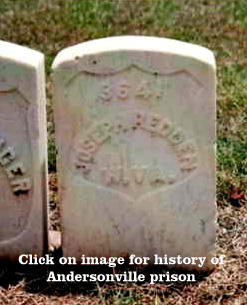 There is a Final Statement: "I certify, on honor, that Joseph Redden a private of captain Johnson's company H of the 1st vet Regiment of West Va Inft. of the state of West Virginia, born in Fayette Co. state of Virginia, age 40 years; 5 feet 9 inches high; dark complexion, hazel eyes, dark hair, and by occupation a farmer, having joined the company on its original organization, and enrolled in it at the muster into the service of the United States at Winchester Va on the 24th day of February, 1863 by Lutenant Dubler, at Winchester on the 29th day of April, 1863. To serve the term of three years and having served HONESTLY AND SERVED FULLY with his Company in the field to the date of his death is now entitled to a DISCHARGE by reason of death, he died at Andersonville Ga July 20th 1864 while a prisoner of war.
The said Joseph Redden was last paid by Paymaster Maj. to include the 31st day of August 1863 and has pay due him from that time to the date of his death. He has received from the United States CLOTHING amount to 35. 96 dollars, since the 24 day of February 1863, when his clothing acount was last settled. He has received from the United States NO dollars advanced BOUNTY. Given in duplicate, at Staunton Virginia, this 25th day of May, 1865
J.W. Johnson Capt.
There has always been a question about Joseph's capture so close to his home. Speculation has been that he "took leave" to visit relatives and was betrayed by his confederate cousins. None of this can be proved...but the fact remains that most of his family were confederate or confederate sympathizers and probably had divided loyalties.
It is interesting to note that during that time, the question of paroles was a subject of political debate. Southern prisons were overcrowded as were Northern. The politicians of the North decided that paroles were detrimental. Prisoners from both sides languished, fell ill and died. Joseph Redden died July 20, 1864 of dysentery--- which was probably cholera.
Joseph's widow, lived with her daughter Amanda and son in law Francis Marion Engle in Ohio after the war. Sarah Jane attested to Francis Marion Engle's war service in his pension record. She signed with an X. A death date has not been determine for Sarah but it was after 1888. Neither do we know her burial place but it is likely in Ohio. For that matter, we cannot find the burial place (although it is recorded on the death certificates) of Francis Marion Engle and Amanda Melzina Redden.
At first glance it would seem that her father, Joseph Redden and suitor Francis Marion Engle, might be friends from "the war." This might be so, but no evidence exists to substantiate the theory. They were in different "outfits." They were of different generations. We do not; in fact have any idea whatsoever how Amanda and Francis met.
Francis returned from the war a broken man. He suffered from heart problems (see pension records). There is no good record of what he did for employment after the war. We know he was active in the GAR (Jacob Davis Post 441) – but little else. We know he and Amanda and Sarah lived in and around Lawrence County, in and around Scioto County and in and around Cincinnati. They were prominent enough to make the newspapers when they died.
---
Amanda Melzina Redden and
Francis Marion Engle
Amanda Melzina Redden (Joseph) was born June 15, 1845 in Fayette Co., WV married - Francis Marion Engle October 12, 1865. Amanda Died April 28, 1901 at the age of 55, of what was listed as a sudden cardiac asthma attack. At the time of her death she was living at 836 Pearl St. We assume that street was in Cincinnati Ohio as the death report was completed by the City of Cincinnati. The report also said that Amanda was buried in Sciotoville Ohio, which is pictured below, from the year 1911.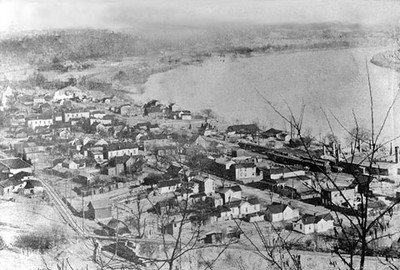 This brings up the questions, if she was living in Cincinnati when she died, why was she buried in Sciotoville Ohio, some 80 miles from Cincinnati? Was there family there?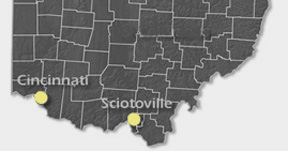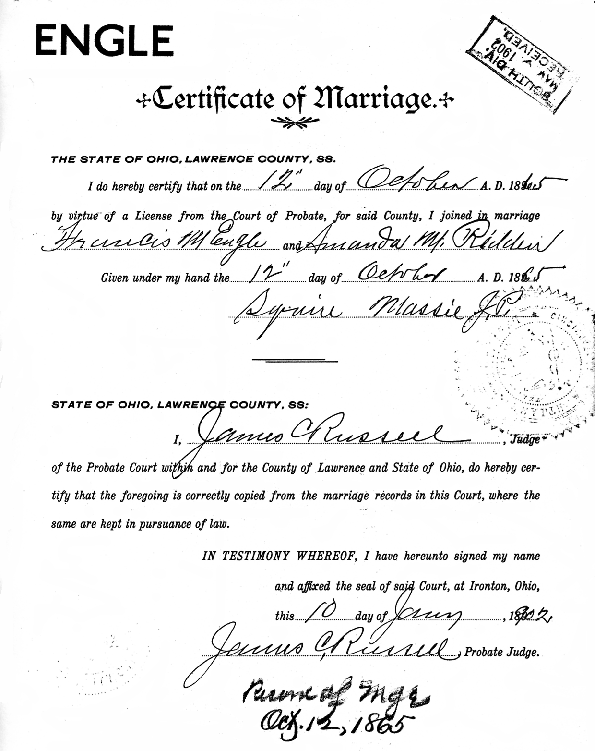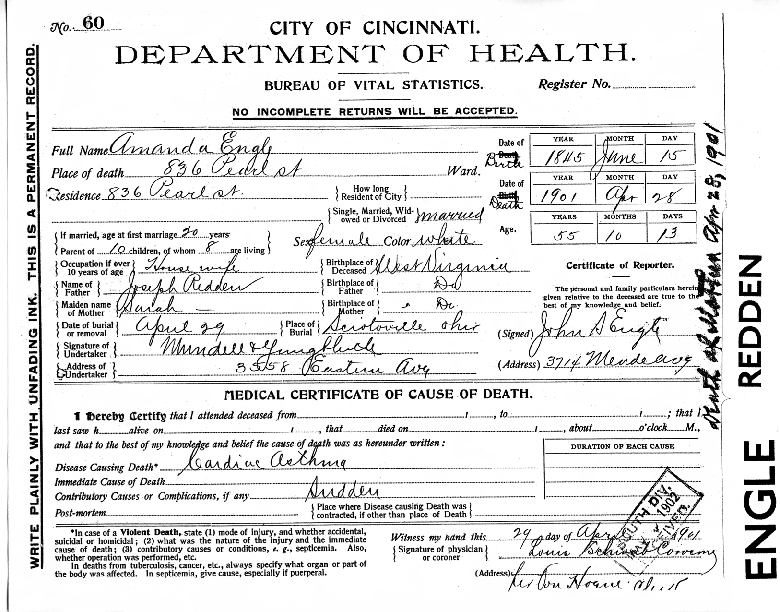 Their Children:
| | |
| --- | --- |
| 1. John Sherman Engle | 2. William Amos Engle |
| 3. Charles Fletcher Engle | 4. Sarah Engle |
| 5. Vira Mae Engle | 6. Nancy Engle |
| 7. Edith Engle | 8. Unknown Child |
| 9. Unknown Child | 10. Unknown Child |
---
John Sherman Engle born 1874 Arabia Ohio - died. 1953 Tampa FL
---
William Amos Engle
---
Charles Fletcher Engle born April 14, 1880 - died. December 5, 1962
---
Sarah Engle
---
Vira Mae Engle
---
Nancy Engle born 1870 - died 1920
---
Edith Engle
---
The photograph to the left is of the four Engle girls:

Edna (Engle) Snodgrass top back.

Nancy (Engle) Ellsesser left center

Sarah (Engle) Fields right center

Vira Mae (Engle) Willbanks lower front.
---
Nancy Engle
and Lewis Ellsesser
Nancy Engle (Amanda) (Joseph) born 1870 - died 1920 at age 50. Married- Lewis Ellsesser, born 1866 – died 1927 at age 61. Both are buried at Athens, Ohio.
The picture below is of Oma Ellsesser, Lenna Mae Ellsesser, and ?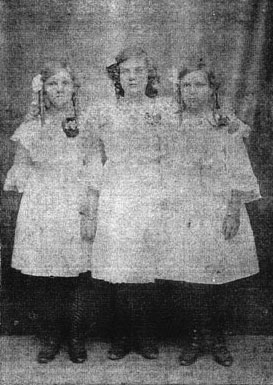 Their Children: 1.Oma Ellsesser 2. Lenna Mae Ellsesser
---
Oma Ellsesser and Lon Neimeister
Oma Ellsesser (Nancy) (Amanda) (Joseph) born Oct 14, 1889 – died March 27, 1964 at age 74. Married- Lon Neimeister, December 16, 1909 in Columbus, Ohio. Lon Neimeister was born September 21, 1878 – died April 26, 1962 at age 83.
Their Children:
1.Lewis Frederick Neimeister

2. Lonnie Winfield Neimeister

3.Amos Herbert Neimeister

4. Donald Bailey Neimeister

5. Homer Charles Neimeister

6.

Sarah Maxine Neimeister
---
Lewis Frederick Neimeister, (Oma) (Nancy) (Amanda) (Joseph) born October 6, 1910 – died January 15,1997 at age 86. Married- Emma C. Erman
---
Lonnie Winfield Neimeister, (Oma) (Nancy) (Amanda) (Joseph)born March 18, 1912 Married- Sarah Lanter, born August 24, 1912 – died February 16, 1970 at age 57.
---
Amos Herbert Neimeister, (Oma) (Nancy) (Amanda) (Joseph)born November 15, 1913 – died October 20, 1919 at age 5. Buried at Athens, Ohio.
---
Donald Bailey Neimeister, (Oma) (Nancy) (Amanda) (Joseph)born January 22, 1916 – died February 1 1982 at age 66. Buried at Marion Ohio.
---
Homer Charles Neimeister, (Oma) (Nancy) (Amanda) (Joseph)born December 20 1918 Married- Violet Engel, born July 25, 1923 – died February 22, 1985 at age 61.
---
Sarah Maxine Neimeister (Oma) (Nancy) (Amanda) (Joseph)born unknown
---
Lenna Mae Ellsesser and Elias Thompson
Lenna Mae Ellsesser (Nancy) (Amanda) (Joseph) born 1891 – died 1918 at age 27. Youngest daughter of Nancy and Lewis Ellsesser. Married- Elias Thompson, born 1880 – died 1918. Both are buried at Athens, Ohio.
Note: In the fall of 1918 on a Monday, Elias died. The next Monday Lenna gave birth to a baby, which was stillborn. It was buried with its father. The third Monday Lenna died. Both Lenna and Elias died from the flu.
---
We wish to thank the descendants who have contributed to the creation of this web page. Without them this site would not exist. If you are a descendant of Joseph Redden and can fill in some of the blanks or can add photographs or other family history information, please help. If there are mistakes that you are aware of, please let us know, Thank you.
---
Home Children History Descendants Resources Contact Us Redden Cemetery
Copyright © 1999-2018 "The Descendants Of William Redden Sr. and Fanny Kaylor." All rights reserved