Of William Redden Sr. and Fanny Kaylor
P O Box 761, Toledo WA 98591
e-mail: the_descendants@hotmail.com
---
Newsletter Volume: 2

December 2003
Greetings to all ! It is our sincere hope that this 2003 was a good year for you and your families and that the coming year will bring even greater blessings.
We have been busy researching the Redden lines, compiling records, communicating with others who were doing the same, and following leads, looking for those who are descendants of William and Fanny. Though genealogy research is slow in yielding results and takes patients, the effort is moving forward. However some of the goals we set for 2003 have not been met. One was to have a genealogy database for the lines descending from the children of William and Fanny posted on the web site. Although it was not accomplished this year, the goal has not been discarded, just pushed back a bit, and other goals have been added to the list. We hope to include in the newsletters and on the web pages, biographies of the descendants. Only information of descendants who are no longer living will be posted on the website. Two such biographies are included in the newsletter this year and have become a permanent page of the website. They are linked to the names of the lines they represent on the "Children's" page.
It is our hope that you as descendants of William Redden Sr. and Francis Kaylor will continue to support this effort. As you research and record information of those who have gone before in your family lines, please share this information with "The Descendants" so I can add it to the Descendants records in order to build a consolidated History of the Redden Family, the different lines, families, and individuals who have descended from William and Fanny, and make it available to all of their descendants.
If you feel that there is an individual in your family line, whose information or life story you could share with the rest of us, please let me know, I would like to include them in the next newsletter and add it to the web record.
All information and photos in the newsletters and on the website are available for the Descendants to copy, save and share with your family. Our only request or restriction on the use of the material presented by "The Descendants" is, that it not be used for any commercial purposes. The information on this website is the result of individuals freely sharing their research with us.
---
RESEARCH

Looking for William Sr.

We looked for William in Augusta County. Why? In the family legend it states that William traveled down to the valley of Virginia and bought a farm near Staunton. Staunton was and still is the county seat of Augusta County, Virginia. Of course we now believe that William was born in Virginia as the result of the 1850 census that states William and Fanny's birthplace was Virginia. Also, finding a record of Fanny's (Francis Kaylor's) parents and family in Virginia strengthens that belief that William was born there too.

In the last newsletter, we posed some questions, "Could it be that William Sr. was born in Augusta County, and possibly buried there? Could his parents be buried there? What about land records, and birth records of brothers and sisters."

The following is the reported results of research done in Augusta County, VA looking for Reddens.

Susan Roquemore of Joseph Redden's line, did an extensive search. She and her husband David, who is a retired probate lawyer, and know the ins and outs of digging through court house records, poured over the Augusta County and adjacent counties records looking for Reddens, but came up empty handed. She said that if they (the Reddens) were there they owned no property, paid no taxes, and were not listed on any census. Susan said of David that if he can't find it, it AIN'T there!

George Redden of William Jr.s line, did an online search of the Augusta County cemetery records, and also communicated with the individual who transcribed the records for the Augusta County cemetery internet website. The following is her response to my inquiry:

Hello George,
I have checked several books and other research information of Augusta Co. Va. and the name Redden does not show up in any of them, I do see the name Redner. That does not mean that your ancestors were not in Augusta Co.
Sorry I could not be more help, Good Luck in your research.
Glenda Lambert-Gibson

Other Research

Mary Sue (Redden) Hamilton of William Jr.s line, wrote:

"I just really got excited about some of the info I found today. I just copied, word for word what was on the fiche. This info was found at the LDS Family History Library on microfiche #'s 6103994 & 6103995 "Early deaths of Raleigh County."

"John Redden Sr. died Sept.13, 1885, of old age at 87 years. Born in the state of Kentucky, son of Sarah Redden. Death reported by son J.H.Redden.

"

Mary Sue said "(This means John was born in 1798--He may be the son of William's sister)"

In the 1850 Raleigh Co., Virginia census it shows that William Sr. was 61 years old, which would mean he was born in 1789. The census recorded his birthplace as Virginia.

This information confirms what we learned from the Shady springs land record 1850 – 1867 (shown as part of the December 2002 Descendants newsletter) where both William Redden Sr. and John Redden Sr. are shown as different individuals, living in the same area.

The two individuals also had children with similar names or at least the same initials.

Case in point is from the Raleigh County Death Record it records the death of J.H. Redden as Apr. 9, 1899, in Raleigh County, at the age of 76. The cause of death was listed as Bright's disease. The parents were listed as Wm. & Fannie Redden.

In the 1880 Census there are two James H. Reddens listed as living in Shady Spring, Raleigh County, WV

First Was:
| | | |
| --- | --- | --- |
| Name: | | James H. REDDEN |
| Age: | | 42 |
| Estimated birth year: | | <1838> |
| Birthplace: | | West Virginia |
| Relation: | | Brother |
| Home in 1880: | | Shady Spring, Raleigh, West Virginia |
| Occupation: | | Farmer |
| Marital status: | | Single |
| Race: | | White |
| Gender: | | Male |
| Head of household: | | Michael REDDEN |
| Father's birthplace: | | WV |
| Mother's birthplace: | | WV |
Next Was:
| | | |
| --- | --- | --- |
| Name: | | James H. REDDEN |
| Age: | | 53 |
| Estimated birth year: | | <1827> |
| Birthplace: | | West Virginia |
| Relation: | | Self |
| Home in 1880: | | Shady Spring, Raleigh, West Virginia |
| Occupation: | | Farmer |
| Marital status: | | Married |
| Race: | | White |
| Gender: | | Male |
| Head of household: | | James H. REDDEN |
| Father's birthplace: | | |
| Mother's birthplace: | | |
It is interesting to note that neither of the estimated birth years of the two J H Reddens from the 1880 census matched that of the J H Redden who was listed above as the son of William and Fannie Redden.

The Raleigh County Death Record reports the death year as 1899 and his age at death as 76, which if we subtract his age from the year of death gives a birth year of 1823. Now looking at the first J H Redden from the 1880 census his age was listed as 42, when subtracted from 1880 gives a birth year of 1838.

The interesting thing here is that the census lists him as living with his brother Michel Redden who was reported as head of household. Knowing that William and Fanny had two sons, J H and Michael might lead us to believe that the first is there son, except that the birth year of 1838 is fifteen years off of the 1823 birth year calculated from the death report, which listed William and Fannie Redden as parents.

The second J H Redden listed in the 1880 census showed his age as 53, which when subtracted from 1880 gives a birth year of 1827, only four years different from that of 1823 birth year listed in the death report, which makes it more likely that he is the son of William and Fanny Redden.

Looking again at the two death records shown above those of John Redden Sr. and that of William Redden Sr., we note that John is nine years younger than William and would more than likely have children who are younger than those of William, so we might assume that the first J H Redden age 42 might be John's son.

Although more research needs to be done in this area, It is possible some of you have records that might clarify who is who and which J H Redden belongs to whom.

What we do find however, as we look closer and closer at the records, is that John Redden Sr. and William Redden Sr. are two different individuals and represent two different families whose connection might be brought to light as we look again at the record recorded in 1939 by Aubrey Smith, a historian from Beckley WV. He recorded the words of Mary Redden Worley, the granddaughter of William Redden Sr., who states that John Redden Sr. is the illegitimate son of the sister of William Redden Sr.

I would like to state one thing here, referring to the presentation of what some may consider as sensitive material, such as that which was recorded above. The Descendants as a family organization, gathers, organizes, and presents that which we have found in order to establish accuracy in our research and to understand the relationships of individuals who have gone before. We do not, judge or hold any individual or family group or line as less important or valued as the result of information that may come to light as the result of our genealogical research. We recognize that there are not, and have never been, any mortal individuals who have gone through this experience called life who are perfect.

We can not understand or comprehend fully the environment, influences, circumstances or struggles of their lives. And therefore we must refrain from negative judgment. Rather let us move forward in our research of the family history with love and respect for all who have gone before us.

In regard to the information given to us by Mary Worley, we have several questions. Who was William's sister, what was her name, and where was she born?

As has been stated before, Mary Redden Worley said that the Reddens came to the Raleigh County West Virginia area from Kentucky.

The finding by Mary Sue Hamilton may have answered several questions for us.

· It gives the first record, of which I am aware, confirming the birth of any Raleigh County WV Redden being born in Kentucky.

· It gives us the name of an individual that may prove to be William's sister, (Sarah).

· It does not give us her place of birth, but we do know that she was in Kentucky in 1798 when John Sr., her son was born.

Recently we received what could be another piece of the puzzle, and may prove to be a breakthrough for the descendants in our effort to find the parents of William Redden Sr.

Below you will find an interesting letter from Anna Redden Caruso.
---
| | |
| --- | --- |
| From: | |
| To: | the_descendants@hotmail.com |
| Subject: | "Descendants of William and Fanny" |
| Date: | Fri, 8 Aug 2003 19:16:06 -0700 (PDT) |
Hello,

My name is Anna Redden Caruso and I am a descendant of John Lewis Redden brother of William Redden. My resource was Pauline Haga of Crab Orchard, WV. According to the information she gave me. The Parents of William C. and John L. Redden are John and Sarah Redden both born in the late 1700's. She gave no information on where they were born or lived. in further research from census records, individual databases, marriage records, my family records they all seems to be accurate. I do believe that the Reddens originally migrated from Kentucky to W.Va. My parents always talked about the Reddens' being from Kentucky. My records also show that John Lewis was born in Kentucky but William was born in Va. This has always been a bit of a puzzle to me since he was the only one born there. I am also working with someone else that has lots of information on the Reddens of Kentucky. Hopefully we will find a connection. My guess would be Sarah.

Here is my line; NOTE: to ensure privacy not all information that was presented by Anna is made available on line. (Registered Descendants can request a copy of her original email)

Herbert Redden ( My Father) Born. 1898 Grandview, W.Va. son of Allen Redden and Rose Kiser

Allen Redden Born. 1871 Raleigh Co. W.Va. son of John Lewis Redden and Susan Plumley.

John Lewis Redden, Sr. Born. 1838 (??) Raleigh Co. W.Va. son of John and Christina Redden Redden ( The info from Pauline Haga States that Christina was the daughter of William C. and Fanny Kaylor)

John L. Redden Born. 1805 (??) in Kentucky son of John and Sarah Redden

John and Sarah Redden both born late 1700's (No other info. at this time)

Anna Caruso

Anna can be contacted by e-mailing The Descendants at the_descendants@hotmail.com We will forward any inquire to her and she can respond if she desires to. (Registered Descendants can request a copy of her email address)

.

Also, I have info on Lucy Ann Redden B. 1881, Raleigh Co. W.Va; d. aft. 1899; M. William Lawson, June 29, 1899, Raleigh Co. WV. (Raleigh Co. Marriages) She was the daughter of John Lewis Redden Sr. and Elizabeth Meadors (John L. Sr. 2nd Wife). The records I have said they had 14 children but, I only have 5 listed. If LaWanna, Lawanda?? (sorry I didn't make a note of her name) wants other info. please feel free to give her my e-mail address. She may already have this info. by now. I have been so overloaded with Reddens' I hadn't checked for Kaylor databases until now. I think I have covered all the bases for now..and hope I haven't made a mess of this. There are just too many Johns' it gets very confusing.... I hope to hear from someone soon.

Blessings to all, I'm glad I found you!

Anna Caruso
---
A note concerning the above email:

In genealogical research we must keep an open mind and follow each lead as it appears trying to verify as we go. That's the hard part!

I would remind you that we have found among some of the descendants personal family records three different names when referring to William Redden Sr., Some list him as John William Redden Sr. Others have him as William Redden Sr. and a few list him as William C. Redden. Each showing him married to Fanny Kaylor and having the same children.

A bit more confusion:

The information contained in Anna Redden Caruso's email states that Christina was the daughter of William C. Redden and Fanny Kaylor. Though that information according to Anna Caruso came from Pauline Haga, who is a well-known and respected historian and genealogist in West Virginia.

The Descendants, have not found any other record among family history or census records, which shows that William and Fanny had a child named Christina. We do know that Michael Redden the son of William Sr. and Fanny Kaylor had a child named Christina, whose line some of our registered descendants spring from.

Records have since been found placing Christina Redden as the oldest Child of William Redden Sr. and Francis kaylor which verifies what Anna Caruso records reveal.We have also determined that William Redden Sr. middle initial was in fact "C" so there again, Anna's information was correct. 6/2016

Continuing with our search for William Sr:

As a reminder, The 1850 census shows William Redden Sr. having been born in 1789. and recorded his birthplace as Virginia. (We have not found a record of that birth in Augusta Co. or anywhere in VA to date)

Anna Caruso's family records indicate that John L. Redden was born in 1805 (??) in Kentucky, was the brother of William Redden, and the son of John and Sarah Redden

Lets look at a few IFs for a minute:

If Mary Redden Worley is correct and John Sr. is the son of the sister of William Redden Sr., and if Anna Redden Caruso's records and family information are correct, that John L. Redden is the brother of William Redden, then we have several interesting things here.

· William was born in Virginia, 16 years before John L. Redden, his brother was born in Kentucky.

· John Redden Sr., who would be the nephew of William Sr., was born 9 years after William's birth. John Sr. was born in Kentucky, which means that his mother, Sarah Redden, William and John L's sister, was in Kentucky in 1798 when John Sr. was born and 7 years before John L. was born in Kentucky.

· Sarah Redden, the sister of William and John L., must have been the oldest of the three children as John Sr., her son, was born nine years after Williams's birth.

· According to what we see from the above records, we might assume that the Reddens were in Virginia before they were in Kentucky.

But when we taking a close look at things as they were when William Sr. was born in 1789, I believe we may have solved Anna Caroso's puzzle. We find that the area of the country that now makes up the State of Kentucky was in fact in its entirety in 1789, part of Virginia.

The map below shows the area of Kentucky as part of Virginia one year after William Sr.'s birth. The black lines indicate the Virginia Counties as they were in 1790.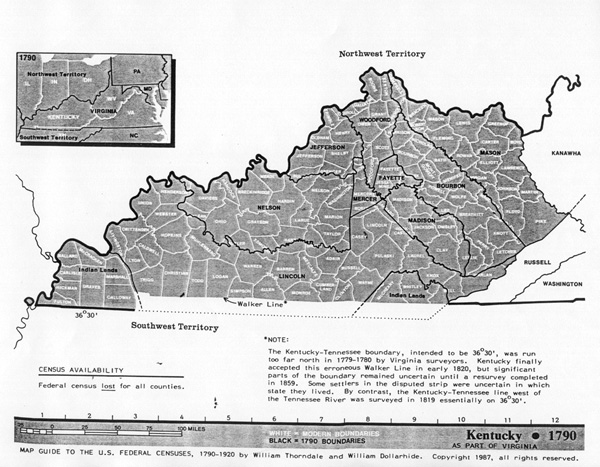 ---
---
Kentucky did not become a State until 1792. So William may have been born in Virginia because that was what it was at the time of his birth. But in reality he too may have been born in what is today Kentucky. John Sr. was born in 1798 seven years after Kentucky was formed. And John L. Redden was born around 1805 in KY, which tells us that the family was still there.
According to our family history we are told that in 1810 William migrated to the area of Virginia that is now Raleigh County, West Virginia. The family history said that they came over the "mountain" to that area. It states that they came from the valley of Virginia, from a farm near Staunton.
A little more speculation:
Could it be that the name of the town that the family settled near sounded something like Staunton, but changed to become Staunton as the family legend was repeated and passed down from generation to generation? As far as we know, the information was not recorded until Abraham (Abe) Redden did so in the early 1950's and gave out copies of the family history at a family reunion.
Staunton was and still is the county seat of Augusta Co., Virginia. The extensive research, mentioned above, of Augusta County Virginia, revealed that no Reddens are found anywhere within the county records. No birth, marriage, tax, death or land records have been found with the name Redden attached to them.
A book, which I own called Handy Book for Genealogists, gives information on Kentucky:
It tell us that the area of Kentucky was first claimed by Virginia, Augusta County back in 1584, before it had been explored by white men. The first permanent settlement, Harrodsburg, was founded in 1774, then the next year Boonsboro was founded. In 1776 Kentucky was designated as Kentucky County, Virginia. In 1780 it was divided into three counties, Fayette, Jefferson, and Lincoln. The next division of counties took place one year after William Sr.'s birth, in 1790. There were nine counties formed from the above three counties. Those counties are, Mason, Bourbon, Woodford, Fayette, Madison, Jefferson, Mercer, Nelson, and Lincoln.
It is my personal belief that if our Reddens were in Kentucky, and I do believe that they have their earlier roots there. They might be found in what is todays Eastern Kentucky, in an area that may have been referred to in the seventeen hundreds as "The Valley of Virginia". It would be my guess, based on the family legend, that the area in which they lived would be close to the border of todays West Virginia, and perhaps just over a "mountain" or mountain range from the Raleigh County WV area. The time period we may want to research is between 1789 when William Sr. was born and 1810 when he was reported to have migrated to the Giles county Virginia area, which is today's Raleigh County, West Virginia.
Though our search for William Redden Sr. continues, it may take a new direction. And Kentucky may hold the key to finding his birth place and his parents.
With the information brought to light by Mary Sue Redden Hamilton and Anna Redden Caruso, we may be looking in Kentucky for some of the earliest settlers there, possibly a family with father, John Redden and mother Sarah (unknown maiden name), and children: William C. Redden and John L. Redden and Sarah Redden with a child John.
---
It's still there! Has not changed, or been claimed.
"The Descendants" are offering a $50 reward to the first individual who can find the birth record of William Redden Sr. and identify his parents, or find a record of him as a child with his parents.
To claim the reward the information must be documented. You must provide the source of the information and be able to show that the record refers to our William Redden Sr., John William Redden Sr. or William C. Redden Sr., as the case may be.
Should you wish to contribute to the reward amount you can do so by send a check or money order to "The Descendants" care of George A. Redden at the address located at the top of this newsletter.
All of the descendants will be notified when anyone adds to the reward or claims it.
It is our hope that the reward will add a little incentive and fun to our research
---
Found while looking for William Sr:
The following information is presented only as that which was found while looking for William Sr. There is no verification at this time that either of these individuals are family. It is however worth making note of and saving for future reference.

The following information was found on Ancestry.com in their UK area.

The Pallot's Marriage Index for England 1780-1837; there was a Wm. Redden, bachelor = Ann Fisher, Lic. 1792. Also a John Redden (Reading) = Jane Musgrave, Lic. 1793

For either of these individuals to be our William Sr. or John William Sr. or William C. Sr., three things would have to be true,
1. The family legend would be correct, that he was born in 1772, he would have been 20 when he married in 1792. If they came over in 1795, he would have been 23 or 24 years old. If the 1850 census has Wm.'s age correct he would have been born in 1789 and that would mean that he was only three of four years old in 1792 or 1793 when the above marriages took place.
2. The 1850 census would have to be wrong and he would have been born outside of the USA instead of in Virginia as the census states.
3. William and Fanny's marriage in 1810 would be a second marriage for William.
---
Clara and Crosby Redden, Twins?
Clara Redden The Raleigh County death record, lists Clara's death as 7 March 1859, and was reported by her husband Lewis Bragg; her age was listed as 28 years old, which would place her birth year at 1831
---
Where are they?
It is our hope to increase our numbers. There are five of the ten lines descending from William and Fanny, for which we have not found representatives. We hope to find descendants from all of the lines.

We have found and have as members of our organization the descendants of the following lines: Michael, William Jr., Harrison

,

Joseph, Nancy, and Francina.

We have yet to come in contact with the following lines: Clara, Crosby, John Jr, Mathias, Sallie, (known as Fanny).

I have given this some thought for awhile, wondering why we haven't come into contact with any of the descendants from those lines. In doing what research I have, my assumption has been that most of the children of William and Fanny lived, raised their families and died in the Raleigh County, WV area. I envisioned them as traveling by horse back or buggy and not really traveling far from the farm in those days. If that is true where are the descendants of these lines? Why haven't we come in contact with some of them?

In a recent publication of the "Ancestry Daily News" (http://www.ancestry.com/dailynews)

,

an article caught my attention and may hold a clue in researching these missing lines.

The article is reproduced below:

"LOOKING FOR A MISSING RELATIVE? FOLLOW THE RAILROADS!

By Gordon & Juanita Reeder

"I recently found a missing relative by using a bit of intuition. In
1890, a large group of relatives were living in Richland Co, North
Dakota, but a few decades later, some of them were missing. I did all
the usual things like looking in nearby counties, etc., but was
unable to locate them.

While doing some research for another hobby, I realized that the SOO
(later the Great Northern) Railroad ran through Wahpeton in Richland
Co. Thus, I expanded my search to the cities and towns along the rail
line, and found them in Minneapolis.

There are many rail fan websites that have the history of the
railroads in the USA. A Google search with the name of the railroad
will turn up a good list. Also, try the keyword "Fallen Flags." A
fallen flag is a railroad that is no longer running today or has been
absorbed by another road."

Another site to visit if you are looking for information on WV railroads is: http://wvexplorer.com/wvrailroads/default.asp?catid=6&cattitle=History
---
Photographic and Documents Lists:
As we stated in the last newsletter, The Descendants will provide a list of records and photographs we have obtained. Copies are available to the descendants upon request
.
The following list of photographs, are available upon request, and will eventually be available online, so you will be able to right click and save them as a JPEG or GIF image. For now, email me and I will send the ones you want to you as an email attachment. the_descendants@hotmail.com
| | | | | | |
| --- | --- | --- | --- | --- | --- |
| | Aaron Redden and Mary Worley | Aaron Redden and Hirom Anderson | Aaron Redden and Wife- Elizabeth | Abraham Bair Redden | Abraham Redden's 1802 Home |
| Abraham Redden and Family | Basel Redden and Family | Carrie (Redden) Anderson | Charles Redden and Sons | Charley Frank Redden | Clarkson Redden |
| Ida Viola Redden | Jesse Howard Redden | John And Elizabeth Redden | Susie Edith Smith – wife of A B Redden | Virginia Adkins | A video-VCR record of Redden head stones in Raleigh Co. cemeteries |
| Wayland Redden Sr. | William Redden Jr. | Wyatt Redden | | | |
Aubry Smith 1939 Redden record - shown below

Amanda (Redden) Engle Death Certificate

Amanda Redden and Francis Engle Marriage Certificates

Clarkson Redden + Nancy Furrow Marriage Certificate

Descendants of Robert Ward Sr./ Sara Ward and William Redden Jr.

Michael Redden's Death Certificate

Mathias Kaylor's Descendants

1883 Raleigh Co. circuit Ct./ Robert Scott vir. Descendants of Michial Redden Dec'd

Shady Springs land-Tax record

1850-1867
---
Biographies of Descendants
Note: the two biographies below can now be found as a link from the Children's Page.
---
Joseph M. Redden
What was known about Joseph Redden, at least in the last few generations, was that he had moved to Ohio from WV. Then a record (shown below) was found among those recorded by Aubrey O. Smith, in the "Smith/Rife Collection", which states that Joseph Redden died in prison during the Civil War. Then in the spring of 1999, The Descendants came in contact with Susan Roquemore, a descendant of Joseph. She graciously provided the information below concerning Joseph and his descendants. Currently Susan is in the process of reviewing and evaluating this information in light of additional information that has come to her attention. Revisions and updates on the Joseph web page will follow later.
---
---
Joseph was one of the eleven children of William Redden Sr. and Fanny Kaylor. While his birth date is not written in any of the family notes, we can ascertain his birth date as 1823 - 25. He was listed by the U.S. Military as dying at age 40 in 1864.
He married Sarah Jane Kidwell in 1845 in Fayette Co, VA. They had three daughters: Lucretia, Martha, and Amanda.
Sarah Jane Kidwell was the daughter of Joseph Kidwell and Delilah Bradshaw. It is possible that Sarah Jane was actually the result of her mother's confinement with Indians (Potowatamie) in Illinois - one of abduction. This rumor has not been confirmed. It is fairly certain that Delilah (Bracher) Bradshaw was married to Joseph Kidwell before the alleged abduction took place since it is recorded that Delilah and Joseph Kidwell had a son William born in 1823.(?) Sarah Jane's birth is determined to be 1827 and in Illinois. There is no record of the family living in Illinois.
Joseph Redden's physical description: According to the US Military Records, Joseph was approximately 5' 9" tall and of dark hair and dark complexion.
Little is known of his life in Fayette County WV as he was growing up. At some point he moved to Ohio. Whether this was before the war broke out or not is subject to question. His sympathies were with the North and he enlisted in the 1st Virginia Infantry at Wheeling, WV in 1861. He is later reported to be with the 9th WV infantry. The 9th WV infantry was also known as "Blazer's Rangers" and was active in the area where Joseph Redden was captured at Boyer's Ferry, WV. There is often mistaken information about the name of this place: Boice, Boyce and other names come up. The armies were active only at Boyer's Ferry on the appropriate capture date: February 1863. According to some reports he was initially taken to Libby Prison but was transferred to Andersonville, in Georgia.
There has always been a question about Joseph's capture so close to his home. Speculation has been that he "took leave" to visit relatives and was betrayed by his confederate cousins. None of this can be proved...but the fact remains that most of his family were confederate or confederate sympathizers and probably had divided loyalties.
It is interesting to note that during that time, the question of paroles was a subject of political debate. Southern prisons were overcrowded as were Northern. The politicians of the North decided that paroles were detrimental. Prisoners from both sides languished, fell ill and died. Joseph Redden died July 20, 1864 of dysentery, which was probably cholera.
Joseph's widow, lived with her daughter Amanda and son in law Francis Marion Engle in Ohio after the war. Sarah Jane attested to Francis Marion Engle's war service in his pension record. She signed with an X. I have not been able to determine a death date for Sarah but it was after 1888. Neither do we know her burial place but it is likely in Ohio. For that matter, we cannot find the burial place (although it is recorded on the death certificates) of Francis Marion Engle and Amanda Melzina Redden.
The children of Francis Marion Engle and Amanda Melzina Redden:
The Redden family link, of course, is Amanda Melzina Redden. She was born June 15, 1845 in Fayette Co., WV and was married to Francis Marion Engle October 12,1865.

At first glance it would seem that her father, Joseph Redden and suitor Francis Marion Engle, might be friends from "the war." This might be so, but no evidence exists to substantiate the theory. They were in different "outfits." They were of different generations. We do not; in fact have any idea whatsoever how Amanda and Francis met, became acquainted or why they married.
Francis returned from the war a broken man. He suffered from heart problems (see pension records). There is no good record of what he did for employment after the war. We know he was active in the GAR (Jacob Davis Post 441) – but little else. We know he and Amanda and Sarah lived in and around Lawrence County, in and around Scioto County and in and around Cincinnati. They were prominent enough to make the newspapers when they died. It's one of those mysteries – where did they get the money to live?
---
The children of Francis Marion Engle
and Amanda Melzina Redden:
John Sherman Engle b. 1874 Arabia Ohio d. 1953 Tampa FL
William Amos Engle
Charles Fletcher Engle b. April 14, 1880 d. December 5, 1962
Sarah Engle
Vira Mae Engle
Nancy Engle
The photograph to the left is of the four Engle girls listed above.

Edna (Engle) Snodgrass the youngest is shown in the top back.

Nancy (Engle) Ellsesser left center

Sarah (Engle) Fields right center

Vira Mae (Engle) Willbanks lower front.
Nancy (Engle) Ellsesser, born 1870 - died 1920 at age 50.
Married- Lewis Ellsesser, born 1866 – died 1927 at age 61.
Both are buried at Athens, Ohio.
---
Lenna Mae (Ellsesser) Thompson, born 1891 – died 1918 at age 27.
Youngest daughter of Nancy and Lewis Ellsesser.
Married- Elias Thompson, born 1880 – died 1918.
Both are buried at Athens, Ohio.
Note: In the fall of 1918 on a Monday, Elias died. The next Monday Lenna gave birth to a baby, which was stillborn. It was buried with its father. The third Monday Lenna died. Both Lenna and Elias died from the flu.
---
Oma (Ellsesser) Neimeister, born Oct 14, 1889 – died March 27, 1964 at age 74.
Eldest daughter of Nancy and Lewis Ellsesser.
Married- Lon Neimeister, December 16, 1909 in Columbus, Ohio.
Born September 21, 1878 – died April 26, 1962 at age 83.
Note: Oma and Lon Neimeister had 5 sons and one daughter.
Oma and Lon Neimeister had the following children:
---
Lewis Frederick Neimeister, born October 6, 1910 – died January 15,1997 at age 86.
---
Lonnie Winfield Neimeister, born March 18, 1912
Married- Sarah (Lanter) Neimeister, born August 24, 1912 – died February 16, 1970 at age 57.
---
Amos Herbert Neimeister, born November 15, 1913 – died October 20, 1919 at age 5.
Buried at Athens, Ohio.
---
Donald Bailey Neimeister, born January 22, 1916 – died February 1 1982 at age 66.
Buried at Marion Ohio.
---
Homer Charles Neimeister, born December 20 1918
Married- Violet (Engel) Neimeister, born July 25, 1923 – died February 22, 1985 at age 61.
---
Sarah Maxine Neimeister
---
Home Children History Descendants Resources
---
Abraham Bair Redden
Grandson of William Redden Jr.
By George Redden
Abraham Bair Redden was born 26 July 1871, in a small log cabin at Glade, Raleigh Co. WV. He was the Son of Clarkson Redden and Nancy Furrow, the grandson of William Redden Jr. He married Susanna Smith on the 22nd of May 1893. Susie, as she was known, was born 22 July 1872 in the same cabin as Abraham had been. His family moved out and her family moved in. It wasn't until after they were married that they found out that not only were they both born in the same log cabin, but also that they were related through the Kaylor line. Susie's mother was Elizabeth (Betty) Kaylor a direct descendant of Michael Kaylor, the brother of Fanny Kaylor. Abraham and Susie had seven children, two of which died in infancy.

Three of the children were born in Glade WV, one at Crow, WV, and three more in their home in Beckley, WV. Lethia Redden, George Howard Redden, Deck Cornelius Redden, Nanny Page Redden, Mason David Redden, Wayland Hoyt Redden. Their home located at 822 S. Kanawha St. in Beckley, was built in 1901-1902. They moved in around April of 1902. The house still stands today but is not owned by the Redden family.

As a young man in his late teens, A.B. Redden was a schoolteacher in Logan County. He stayed at the school during the week and would travel home on the weekends. The path he took lead him past the home of Devil Anse Hatfield, of the legendary Hatfields and McCoys, where he would stay the night and finish his journey home the next day. While spending one evening in the Hatfield home he was sitting on a small bed in the corner of the room close to the door, when all of a sudden the door burst open and one of the Hatfield boys staggered in shouting and demanding that one of the other men of the house give him whisky. After a few minutes the temper of the drunken man turned violent and he pulled a gun on the other man. Abraham said that he was sure that someone was going to get shot, so he grabbed a child that he thought might be in the line of fire and scooted back on the bed into the corner as far out of the way as possible. Just then, one of the Hatfield women who had been cooking in the kitchen, stepped around the corner, reached under her apron and drew out a revolver, pointed it at the drunken brother and said, " You know we are cut out of the same cloth. You shoot him and I'll drop you where you stand, and you know I will." The drunken man left without his whisky.

Abe said he didn't sleep very well that night. He spoke of watching Devil Anse Hatfield as he sat in his rocking chair in front of the fireplace. With the room being lit only by the firelight, Abe, being aware of the stories of the feuding in the area, said he could envisioned blood dripping from the hands of Old Man Hatfield.

In reality, the Hatfields must have been a fairly hospitable family, to provide a warm meal and a place to sleep for a young schoolteacher on his way home. He did say of Devil Anse Hatfield, that he was a good father.

Granddad in speaking of his school teaching days said that when he ran onto a mathematical problem that he could not solve, he would think about it just before going to bed for the night and he would dream about it and always have the answer in the morning.

That young school teacher went on to become a Postmaster at the small community of Sunflower, WV. He was a grocer and the proprietor of a men's apparel shop, He owned several hundred acre of timberland in Richmond District along with the mineral rights. He became a recognized authority on the coal seams in the region and was sought after for information by those in the industry well into his retirement years.

He was a politition, who ran for the office of Raleigh County Sheriff. Although He conceded to his appointee and was not elected. He did serve as deputy sheriff. It was said of him that he was an honest politician. Abraham Redden later worked for, and retired from, the Raleigh Co. Assessors Office as the deputy assessor. He died on the 19th of February 1962 in Charleston WV after falling and breaking his hip on an icy sidewalk while walking to town at the age of 91. Abraham and Susie are buried in the Redden family cemetery, Crow Raleigh County West Virginia.
---
This newsletter is brought to you by George Redden for "The Descendants of William Redden Sr. and Fanny Kaylor."
Thanks to all who have contributed to its creation.
We wish all a very happy new year. May God bless you and yours, may you be surrounded by family and friends and may peace follow you in all of your paths.
---
The Descendants is a non-profit family organization founded November of 1999.
Its purpose is to foster more effective genealogy research on the lines of William Redden Sr's and Fanny Kaylor's children by collecting, organizing and verifying the genealogy data of those lines, and to create a database that can be shared with all of the Descendants.
To all who descend from William and Fanny
Here stands an open invitation. Let us learn of each other, and prove our family history together, sharing information with each other in a spirit of respect for those who have gone before.
Let us discover our heritage and build a Family Tree in honor of those two individuals, who were among the first to settle in what is today Raleigh County, WV, to establish a home, and a family, which is our common link.
Membership is free and open to all who are descendants of William Redden Sr. and Fanny Kaylor.
Membership Registration Requirements:
1. We ask for your full name and a line of your descendants from
William Redden Sr. and Fanny Kaylor down to you.
2. We ask for your mailing address, your e-mail address if applicable, and a phone number for our records.
The mailing address and phone number will remain confidential and will not
be given out without your permission. Your e-mail address will only be shared with other registered descendants.
3. We also ask for your permission to post your name and the state in which you
reside, with the other registered descendants on our web page. Your personal information, address, telephone number, or e-mail address will not be posted on the website
---
Home
Children
History
Descendants
Resources
Copyright © 2003 - 2005 "The Descendants Of William Redden Sr. and Fanny Kaylor." All rights reserved
.