Home Children History Descendants Redden Cemetery Resources
---
Descendants of William Redden Jr.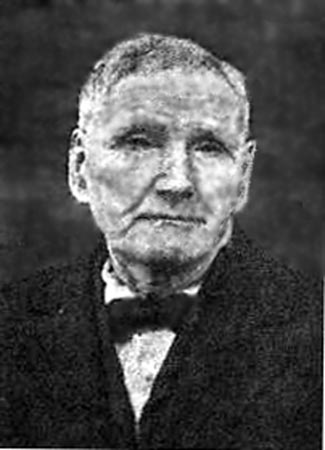 William Redden Jr. (William Redden Sr.) was born the 20th of August 1820, William Jr. married Sarah Ward on the 18th of March 1844.
Sarah Ward was born the 13 of May 1820 at Ward Mountain, West Virginia. Her father was Thomas Ward, Born ? in Rockingham County, Virginia. Her mother was Maria Harriet Morgan, Born ? in Virginia. William died on the 5th of August 1912 at Crow, Raleigh Co, West Virginia
Their Children:
---
Aaron Redden and Elizabeth Solesberry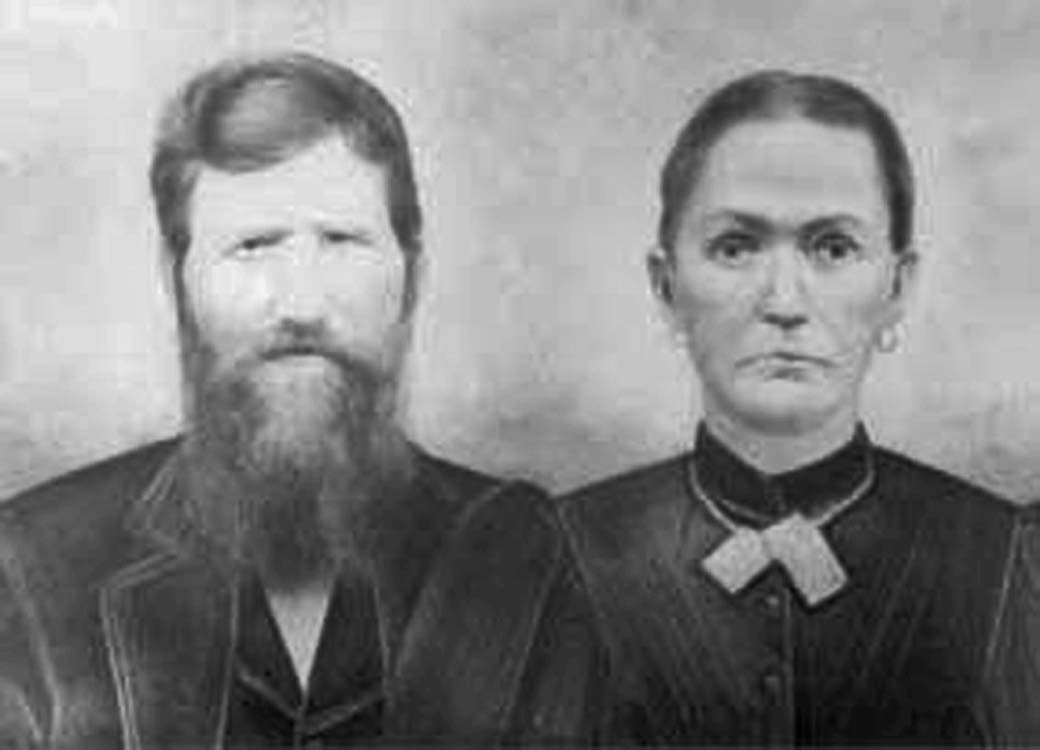 1. Aaron Redden (William Jr.) Was born on the 3rd of June 1845 at Richmond District, Raleigh County, Virginia. He died in June of 1935, in Raleigh County, West Virginia. Aaron is buried in the Anderson Family Cemetery at Beaver, Raleigh Co. WV.
He Married Elizabeth Solesberry, She was born in January of 1855, and died in 1904
Their Children:
---
2. Mary Elizabeth Redden (William Jr.) Was born on the 20th of October 1850 She married Lewis Worley on the 12th of June 1870 in Raleigh Co. WV She died on the 7th of November 1940 at East Rainelle,Greenbrier Co. WV.
Their Children:
| | |
| --- | --- |
| 1. Flynn Worley | 5. Boy Worley |
| 2. Charlie Worley | 6. Boy Worley |
| 3. Ona Worley | 7. Etta Worley |
| 4. Minnie Worley | |
---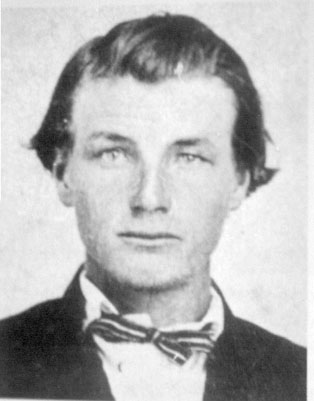 2. Clarkson Redden (William Jr.) Son of William Redden Jr. and Sarah Ward, Clarkson was Born the 25th of July 1847 in ......
Clarkson married Nancy Emiline Furrow on the 12th of June 1870, Nancy was born the 15th of September 1849 in Floyd County Virginia and died on the 5th of December 1923 at Crow, Raleigh County, WV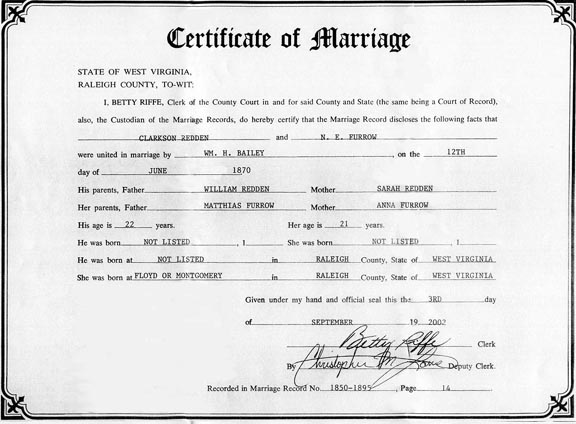 Their children: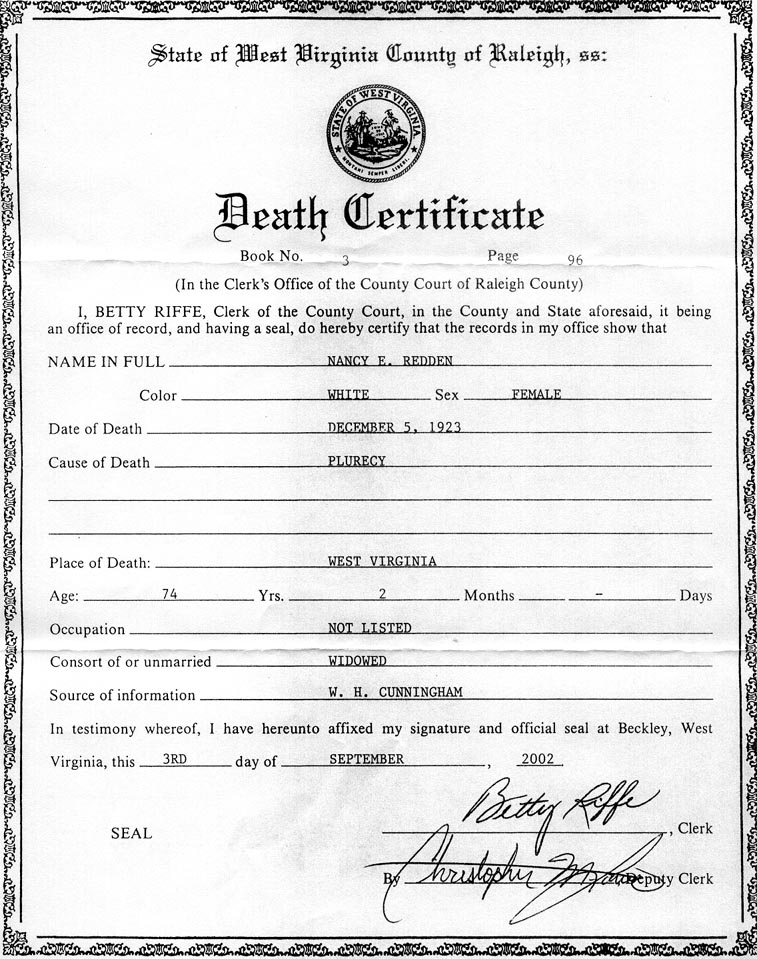 ---
4. Elizabeth Redden ( William Jr.) (b) 1864 In the Raleigh Co. death records Elizabeth was listed as dying 7 Aug. 1879. age 15, dying from diphtheria. Parents listed as Wm. & Sarah Redden, death reported by her father Wm. Redden, film #0598425
---
1. Abraham Bair Redden (Clarkson) (William Jr.) Was born 26 July 1871, in a small log cabin at Glade, Raleigh Co. WV. He was the Son of Clarkson Redden and Nancy Furrow, the grandson of William Redden Jr. He married Susanna Smith on the 22nd of May 1893. Susie, as she was known, was born 22 July 1872 in the same cabin as Abraham. His family moved out and her family moved in. It wasnít until after they were married that they found out that not only were they both born in the same log cabin, but also that they were related through the Kaylor line. Susieís mother was Elizabeth (Betty) Kaylor a direct descendant of Michael Kaylor, the brother of Fanny Kaylor.
Their Children:
1. Nettie Gertrude Redden
2. Eula Letishia Redden
3. George Howard Redden
4. Dexter Cornelious Redden
5. Nannie Page Redden
6. Mason David Redden

7.

Wayland Hoyt Redden
Two of which died in infancy. Three of the children were born in Glade WV, one at Crow, WV, and three more in their home in Beckley, WV. Their home located at 822 S. Kanawha St. in Beckley, was built in 1901-1902. They moved in around April of 1902. The house still stands today but is not owned by the Redden family. As a young man in his late teens, A. B. Redden was a schoolteacher in Logan County. He stayed at the school during the week and would travel home on the weekends. The path he took lead him past the home of Devil Anse Hatfield, of the legendary Hatfields and McCoys, where he would stay the night and finish his journey home the next day. While spending one evening in the Hatfield home he was sitting on a small bed in the corner of the room close to the door, when all of a sudden the door burst open and one of the Hatfield boys staggered in shouting and demanding that one of the other men of the house give him whisky. After a few minutes the temper of the drunken man turned violent and he pulled a gun on the other man. Abraham said that he was sure that some one was going to get shot, so he grabbed a child that he thought might be in the line of fire and scooted back on the bed into the corner as far out of the way as possible. Just then, one of the Hatfield women who had been cooking in the kitchen, stepped around the corner, reached under her apron and drew out a revolver, pointed it at the drunken brother and said, ď You know we are cut out of the same cloth. You shoot him and Iíll drop you where you stand, and you know I will.Ē The drunken man left without his whisky.
Abe said he didnít sleep very well that night. He spoke of watching Devil Anse Hatfield as he sat in his rocking chair in front of the fireplace. With the room being lit only by the firelight, Abe being aware of the stories of the feuding in the area, said he could envisioned blood dripping from the hands of Old Man Hatfield.
In reality the Hatfields must have been a fairly hospitable family to provide a warm meal and a place to sleep for a young schoolteacher on his way home. He did say of Deval Anse Hatfield that he was a good father.
Granddad in speaking of his school teaching days said that when he ran onto a mathematical problem that he could not solve, he would think about it just before going to bed for the night and he would dream about it and always have the answer in the morning.
That young school teacher went on to become a Postmaster at the small community of Sunflower, WV. He was a grocer and the proprietor of a menís apparel shop, He owned several hundred acre of timberland in Richmond District along with the mineral rights. He became a recognized authority on the coal seams in the region and was sought after for information by those in the industry well into his retirement years.
He was a pollution, who ran for the office of Raleigh County Sheriff. Although He conceded to his appointee and was not elected. He did serve as deputy sheriff. It was said of him that he was an honest politician. Abraham Redden later worked for, and retired from, the Raleigh Co. Assessors Office as the deputy assessor. He died on the 19th of February 1962 in Charlston WV after falling and breaking his hip on an icy sidewalk while walking to town at the age of 91. Abraham and Susie are buried in the Redden family cemetery, at Crow, Raleigh County, West Virginia.
---
Aaron Hillory Redden
Aaron Hillory Redden (Clarkson) (William Jr.) was born 7 sept 1873 in Richmond Distric, Raleigh, WV. Aaron married Charlotte Masie Moye in 1903 Raleigh County WV. She was born in 1875 Raleigh Co. WV and died in 1961 Raleigh Co. WV Aaron died 1 January 1944 at the age of 70
Their Children:
1. Lewis E. Redden
2. Donald Day Redden
3. Joseph Ethon Redden
4. Virginia D Redden
5. James Ralph Redden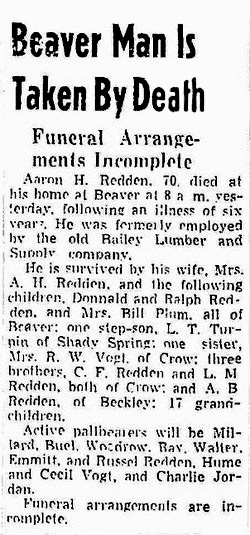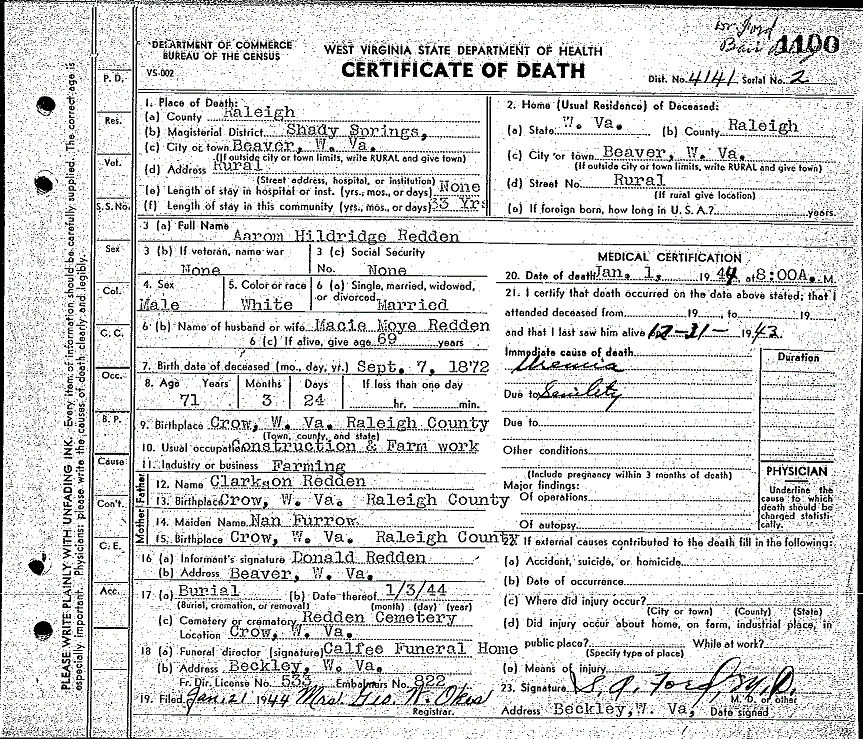 ---
Lewis Monteville Redden
Lewis Monteville Redden (Clarkson) (William Jr.) Lewis was born the 11th of October 1875 and died the 9th of febuary 1945 and is buried in the Redden Cemetery at Crow, WV
---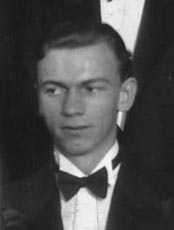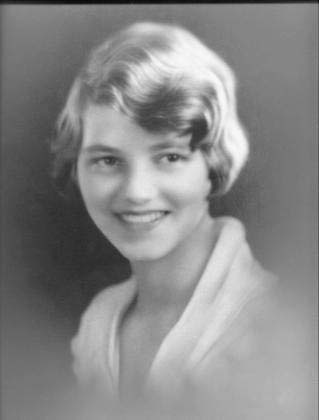 7. Wayland Hoyt Redden (Abraham Bair) (Clarkson) (William Jr.) Wayland was born January 27th, 1912 in Beckley, Raleigh County West Virginia. Wayland married Glendora Dell Shipley on the 23rd of September 1930
The above photographs are of Wayland at age 18 and Glendora at age 16 in 1930 the year they were married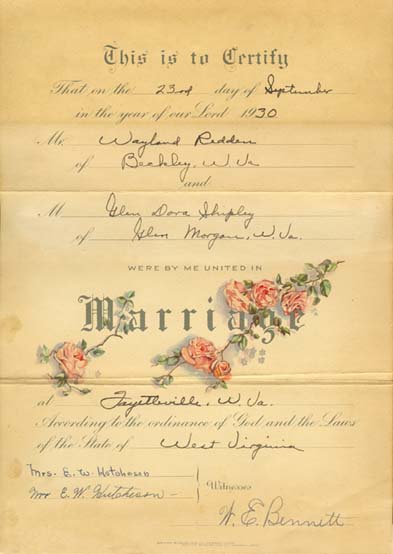 Their Children:
---
During his youth Wayland started what became a lifelong love of music, in the photograph below of the Beckley Jr. High School band, he is right behind the student in the front row who is the second trombone from the right. Wayland is holding a trumpet which became his instrument of choice. He did become quite skilful in playing the piano and organ, he also had a great talent for the vibraphones.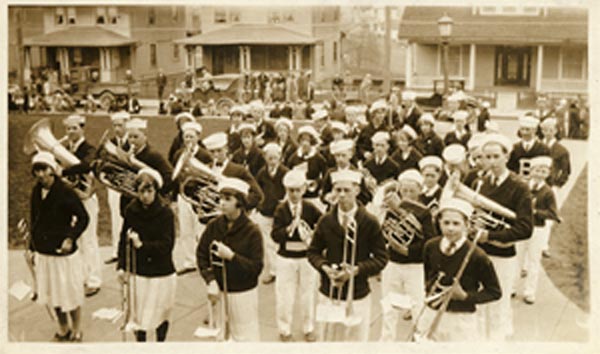 In the photograph below, he is centered in the second window from the right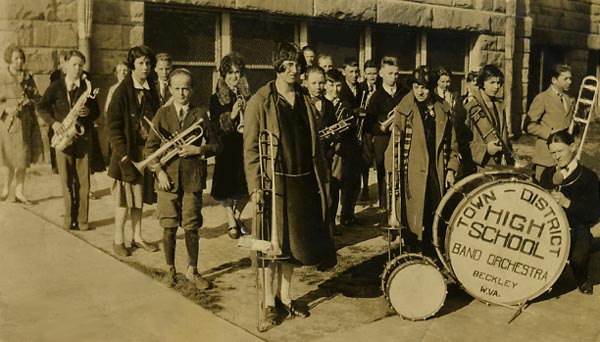 Wayland attended Agusta Military Academy in 1928 at the age of 16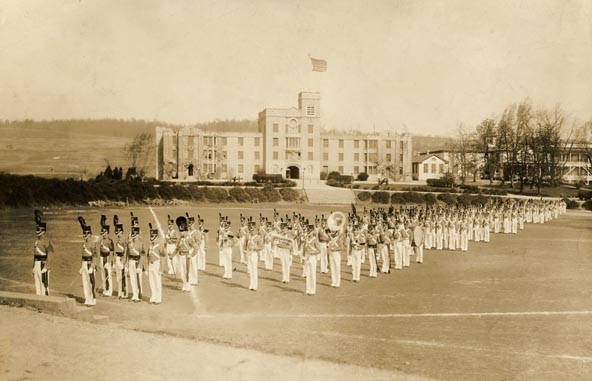 Wayland was with the Jan Campbill's Orchestra at Sea Island GA
in 1930 at age 18 he is on the left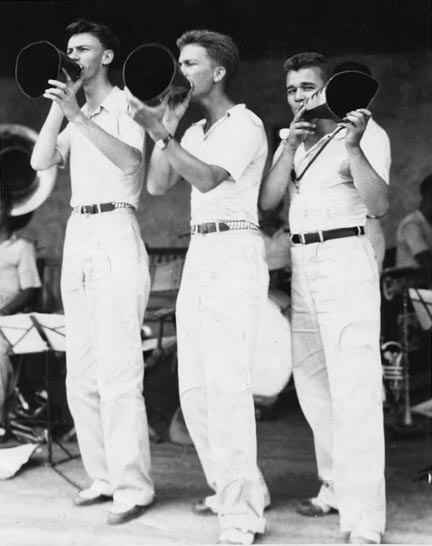 Nelson MaplesOrchestra at Ashbery Park, NJ 1931
Wayland at age 19 is in the back row the third from the right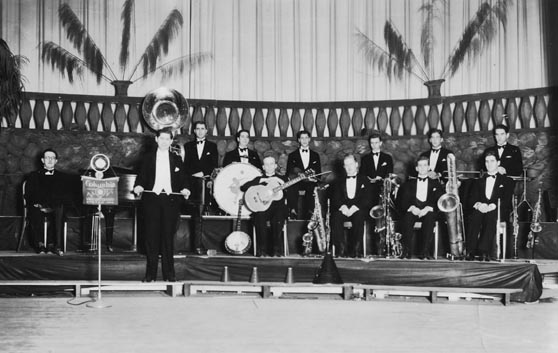 Paul Whiteman's Orchestra
Wayland Redden is the second trumpet from the right on the back row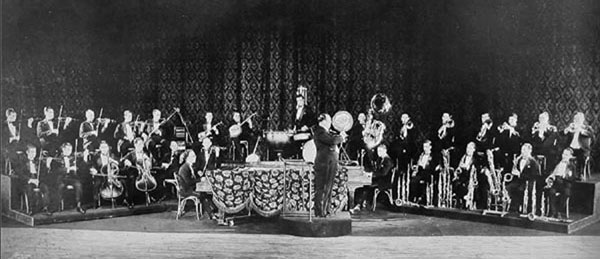 A Letter of Reference 1934
Wayland was with the Benny Goodman Orchestra in 1935.
In this photograph they were playing at the Congress Hotel in Chicago,
Wayland Redden is the second trumpet from the right on the back row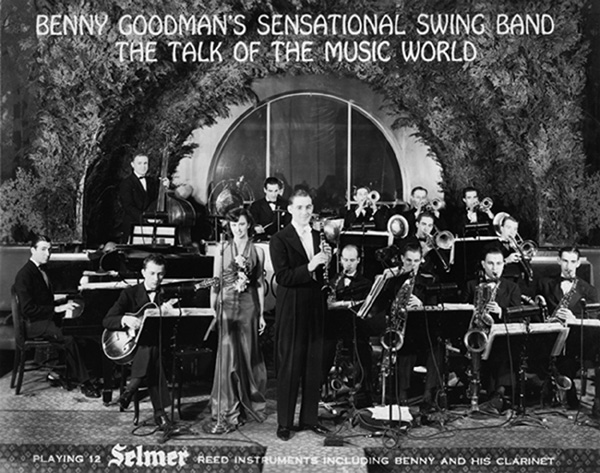 ---
1. Donald Shipley Redden Sr. ( Wayland Hoyt Redden Sr.) (Abraham Bair Redden) (Clarkson) (William Jr.)
---
We wish to thank the descendants who have contributed to the creation of this web page. Without them this site would not exist. If you are a descendant of William Redden Jr. and can fill in some of the blanks or can add photographs or other family history information, please help. If there are mistakes that you are aware of, please let us know, Thank you. Contact : the_descendants@hotmail.com
---
Top Home Children History Descendants Redden Cemetery Resources
Copyright © 1999 - 2014 "The Descendants Of William Redden Sr. and Fanny Kaylor." All rights reserved